Please read these general conditions of use carefully before using our website. Throughout the site, the terms "we", "us" and "our" refer to Healy Sportswear. By using our website, the user ("you") confirms that you accept these general conditions of use and that you agree to comply with them. If you don't agree to these general conditions of use, then we won't be able to render our services to you.  By visiting our site and/or purchasing something from us, you engage in our "Service", you accept the Terms and Conditions of Sale and Policy that set out the terms on which we provide goods and services through the website and/or through the hyperlink if or when provided. These Terms & Conditions apply to all users of the site, including without limitation users who are browsers, vendors, customers, merchants, and/or contributors of content. We reserve the right to refuse service to anyone for any reason at any time.
Updating Terms and Conditions:
Healy Sportswear reserves the right to amend these general conditions of use at any time by posting the amended terms on this website. All amended conditions will automatically take effect immediately on posting
Modifications to the content and product offerings on the website:
We reserve the right to make changes or corrections, alter, suspend or discontinue any aspects of the website or the content or the products, or prices, or services available through the website without prior notice. However, any such amendment or withdrawal will not affect orders already placed prior to the change. It is your responsibility to check this page periodically for changes. Your continued use of or access to the website following the posting of any changes will account for your acceptance of those changes
Customer Privacy:
You understand that your content (not including credit card information), may be transferred unencrypted and involve (a) transmissions over various networks; and (b) changes to conform and adapt to the technical requirements of connecting networks or devices. The customer is responsible for providing us with their most up-to-date contact information,(i.e., shipping/billing address, phone number, and email address). You agree to promptly notify us of this change, by email or by contacting our customer care representatives, so that we can successfully process your order without any issues or delay.
Processing Time:
Healy Sportswear has the fastest turnaround time in the market. We offer STANDARD or RUSH processing.
Customer's responsibility to confirm/approve the Order Detail via email (NO EXCEPTION) Estimated delivery date will be quoted on the Order Detail, but if an issue arises with UPS or USPS (United States Postal Service) that is beyond Healy Sportswear's control, and in turn affects the shipment of your order and does not allow the shipment to arrive at the estimated delivery date, Healy Sportswear is NOT responsible for any delay from the shipping companies. All orders and any changes to the Order Detail requested by the customer must be submitted to Healy Sportswear via email. Healy Sportswear will respond to your correspondence within 24 hours. We are not responsible if your order(s) is delayed because we are unable to reach the customers for the following reasons such as voicemail is full or not set up and customers do not reply back to our emails within 24 hours or less.
Standard – No shipping charge and the processing time is 2-3 weeks for ALL uniforms, except CHEER uniforms and the WARM-UP SUIT processing time is 3-4 weeks from when full payment is received and your design and ORDER DETAIL is approved
Rush – Fee of 15% from the invoice subtotal or $30 under $200 and the processing time  is 7-10  business days ALL uniforms, except CHEER uniforms and WARM-UP SUITS 10-14 business days from when full payment is received and your design and ORDER DETAIL is approved
For big orders and or quantities of 75 or more it may take longer to process. Please check in with us and call our customer service hotline at 866-774-6219 to confirm the estimated delivery date
Healy reserves the right to not offer RUSH processing due to limited slots available especially during our busy seasons
For first-time orders and big orders over 30, we REQUIRE doing the following options below, to ensure that our customers will be satisfied with their uniforms. Especially if you would like to be certain that the color and overall look of your customized uniform is what the customers are expecting and/or needing. Color and design may look different than the digital mock-up. Once the customer approves the custom sample or if the customer chooses to proceed with their order and opted NOT to order a custom sample or NOT have our factory make a sample and provide the customer a photo of their actual order, Healy will NOT be responsible for any issues regarding color, placement of logos, or font issues with player name, team name, and player number.  Healy will NOT offer any REFUNDS, REDOS, EXCHANGES, or RETURNS.
Order a CUSTOM SAMPLE of your uniform in advance and it typically takes 7-10 business days to process. For CHEER uniform or Warm-Up Suite, the processing time is 10-14 days from when the design and ORDER DETAIL is approved and when full payment is received. However complicated styles may require a couple more days.

For customers who are short on time, our factory will make 1 sample of your order, take a photo of your to customize uniforms, we will email the photos and we REQUIRE that the customer approve the pictures. By choosing this process, it can add an additional day or 2 to your estimated delivery date.
We also advise that you order a SIZING KIT especially for CHEER uniforms and definitely check our size chart online at http://healysportswear.com/size-chart/ and contact us with any questions you may have
Email: info@healysportswear.com
Payment Policy:
For our Standard Processing, we recommend full payment, and we have the option for customers to pay at least half of the total balance to allow Healy Sportswear to start production of your order(s) and we require the remaining balance be paid in full before shipment of your order(s) be processed. (NO EXCEPTIONS)
For our Rush Order, we do require FULL payment to be remitted before we can start production of your order(s). For further details please contact our customer service support
Accepted form of payments:
Healy Sportswear will gladly accept any form of payment listed below. However, for RUSH orders we highly recommend paying with a credit card or through PayPal (Not Echeck). Our customer service support is available Monday through Friday from 8 am to 5 pm, (PST) to take your payment or online payment is also available by accessing the payment option that Healy Sportswear has conveniently included on the invoice
1/ Credit Card/Debit Card– via online using the payment options located on the invoice or contact our customer support by calling 866-774-6219
2/ PayPal – Customer must email us their PayPal email account information so we can send the money request for the customer's invoice.
3/ Money order
4/ PO (Purchase Orders) 

- Minimum requirement: $500  - Maximum requirement: $3000

- In order to process the order, all purchase orders must include the following information and must follow the directions below:

Contact name, phone number, and email (in case we have any questions)

Accounts payable name, phone number, and email (we send out your invoice by email, so a valid email address is required to process your order)

A Purchase Order Number

Billing and Shipping Address

Clearly stated item name, unit cost, and quantity needed

If you are located in the state of California, kindly attach your tax-exempt number
If you need our W9 form please email info@healysportswear.com

All Purchase Orders must be signed by an authorized school official

Merchandise must be shipped to the school address only

When you have your purchase order ready you may email info@healysportswear.com. This is perhaps the best option as your orders will be processed as a priority. Or you may fax it as well at (408)350-1899

WE CAN ONLY ACCEPT 1 PURCHASE ORDER AT A TIME PER SCHOOL. WE CAN'T PROCESS A NEW PO UNTIL THE FIRST PO HAS BEEN PAID
We accept official Purchase Orders from the accredited public organizations below:
Universities and Colleges

High Schools

Junior High Schools

Middle Schools

Elementary Schools
Purchase orders from the following types of groups WILL NOT be accepted:
Private Schools and Academies

Public Charter Schools and Academies

Gyms

Cheer and/or dance studios

Pop Warner leagues

Pee Wee leagues

Private companies
5/ Check – Please send the check to the address below and by opting to pay by check you are aware that we cannot start the production of your order until the check has been cleared into our bank account. It can take up to 10 business days for any bank institution to clear or process the check:
Attn: Healy Sportswear
11415 Sunrise Gold Circle Suite #7
Rancho Cordova CA 95742
Check Policy:
For quick shipment, please pay with a credit/debit card. If your order is paid with a personal check, cashier's check, or official bank check it will be held until cleared by our bank. This can take up to 10 business days.
Please note that this policy also applies to final payments made for uniforms and custom-made accessories. Even if the merchandise is ready to be shipped, if the final payment is made with a personal check, cashier's check or official bank check the completed order may be held up to 10 business days, to ensure that the check has cleared. We strongly urge you to make a final payment with a credit/debit card or PayPal account (not using Echeck) to avoid a delay in receiving your goods. A returned check on an order will cause the entire order to be pulled from production and placed on hold until payment is resolved.
Credit/Debit Card Disclosure:
Credit card information is always encrypted during transfer over networks and we also do not keep your credit card information on file. In the event the transaction(s) is declined, it might reflect the amount as a pended transaction, but please refer to your banking company because the funds were not successfully transferred to our account and we have no access to collecting the funds when the transaction has been declined. The time it takes for your funds to be returned to your account will vary and depend on your bank company and Healy Sportswear will not be held responsible for any bank issues related to transactions being declined.  Until full payment is received, we will not be able to ship your order and if this affects the delivery date of your order, Healy Sportswear will not be held responsible for not meeting the expected delivery date that was agreed upon by both parties.
Sales Tax Information:
At present, you are only responsible for sales tax if your order is being shipped to the state of California.  The current CA tax rate of 8.25% will be added to the invoice if applicable
Order Detail and Graphic Design Approval
Once we receive the payment from the customer, Healy Sportswear will send an Order Detail by using the customer's roster as a reference via email, itemizing in detail the player information (sizes, player names, and numbers), quantity, estimated delivery date, shipping address, invoice number, and the final mock-up of the design that is approved by the customer.  It is imperative that the Order Detail is reviewed carefully because this is our agreement and we will ONLY make your uniforms based on the description of the order detail.  Healy Sportswear will not be held responsible for wrong sizes, wrong player information in terms of misspelled names, and wrong player numbers once the Order Detail has been confirmed and approved by the customer.
Graphic Designs/Mockup Rights:
All logos and graphic designs displayed on uniforms on HealySportswear.com are available for use. If you require a specific scheme, logo, or design other than what is accessible on our site, we ask that you please provide a picture or describe in great detail exactly what type of design or layout you want or need when submitting a free graphic design.  Depending on the complexity, size, and type of logos and or design you are requesting, Healy Sportswear reserves the right to change the layout or size of the logos or any customizations as deemed necessary to ensure the overall look and quality of the uniform(s) Our designers will provide a mock-up of the final design to the customer via email and the customer is required to reply, approving the final mock-up of the design. Extra charges may apply and vary depending on the style, type, and complexity of the design. Please visit our website or contact our customer service support for pricing information.  Our graphic design and final mock-ups are the property of Healy Sportswear and it is not to be used or given to other vendors without our consent.
All designs ( including designs on our website or designs which Healy designers are made for customers) are the property of Healy Sportswear and can be used by us to promote on our website. If you wish your design to remain exclusive then please contact us and let us know. We may grant exclusive rights to your design for one season. Otherwise, we can't guarantee a design can be used only for your team.
Copyright/Trademark Disclosure:
Customer is held solely responsible for any text, logo, emblem, uploaded graphic, custom designs, and images that are submitted to our email or on our website at Healy Sportswear.com, including but are not limited to all trademark and copyright regulations.  Healy Sportswear will not be liable for any trademark or copyright issues that might occur due to the customer's use of selected designs and or content on dye sublimation uniforms or any products
Sizing Disclosure:
Healy Sportswear makes it very convenient for our customers to eliminate the guesswork of choosing the correct sizes for the uniforms by referring to the size charts that we have available online we also offer sizing kits and each sizing kit will include up to four different sizes of the customer's choosing. Please also refer to our website to order the sizing kits or you may contact our Customer Care Support and they will be more than happy to assist you with this request.  Healy Sportswear will not be held accountable for wrong sizes once the customer has submitted the sizes for their order(s) and confirmed the Order details.
Healy Sportswear clothing is manufactured to standard sizing charts. Measurements are taken to determine which standard size will be the best possible fit. It is not manufactured to fit an individual's exact measurements. We are able to customize the size, per customers' requests on most customized uniforms at an extra charge. We also offer a generous seam allowance on most garments to allow for easy alterations if needed. Most garments can be let out almost to the next size. As with any standard-size garment, some alterations may be necessary for the best fit. Alterations and alteration costs are the sole responsibility of the customer and Healy Sportswear does not offer alterations once the order has been processed and confirmed by the customer.
As our clothing is hand-sewn, there may be small allowances in the length and width of garments. Garments may measure up to +/- 1″ of the specified length and +/- 1″ of the specified bust/chest or waist size.
Color Matching:
Healy Sportswear will make its best effort to match, but an exact match is often not possible. Fabric materials and colors, each company has different materials and color tones. If you've ever tried to "match existing" yourself, then you know how difficult this can be. However, all materials fade (or darken) over time, and some materials are simply no longer available, so an exact match is impossible – or very expensive as it would involve custom.  And even if the exact same material is available, it will probably not match until it has weathered or faded over time. Healy Sportswear conveniently offers a free graphic design of the customer's customized uniform. Once the final mock-up design has been approved by the customer, the customer then has the option to order a customized sample of their uniform that has been specifically designed by the customer themselves through our website. By ordering a customized sample, the customer will have the opportunity to verify the colors for themselves and if they are satisfied with the outcome of the product.  We also provide stock samples and our color charts are available online for our customers.  However be aware that we cannot 100% guarantee that the color you are seeing on your computer screen, will be an exact match to the uniform you receive because the colors you are seeing on your monitor will vary based on the resolution of your screen. Healy Sportswear will not be held responsible for mismatched color(s)
Dye Sublimation Disclosure
Our dye sublimated uniforms are Healy Sportswear's most popular product thus far and we strive to perfect our techniques to better improve the quality and overall look of our product. We do our best to match the dye colors on all our garments, however slight shading differences might and can occur, due to the ink and fabric variations from our suppliers, and unfortunately are beyond our control. Therefore we cannot 100% guarantee any color match with our dye sublimated uniforms and Healy Sportswear will not be held responsible for any shading or color differences that are beyond our control
Shipping fee:
We offer Free shipping for all orders minimum of 10 per order. Any orders that are less than 10 will be charged $20 for the shipping fee.
Additional Add-On Uniforms:
Healy Sportswear will gladly manufacture additional "add-on" uniforms in your style. Additional uniform orders will be billed at the appropriate price for the quantity ordered. Prices may change or vary. We cannot guarantee 100% that the colors between the new and existing order will match. Even if the exact same material is available, it will probably not match because all materials fade (or darken) over time.  Add-on orders will be considered a new order and appropriate manufacturing time and shipping will or may apply
For additional "add-on orders" less than 5 please see the chart below. Standard processing 2 weeks for additional add-on orders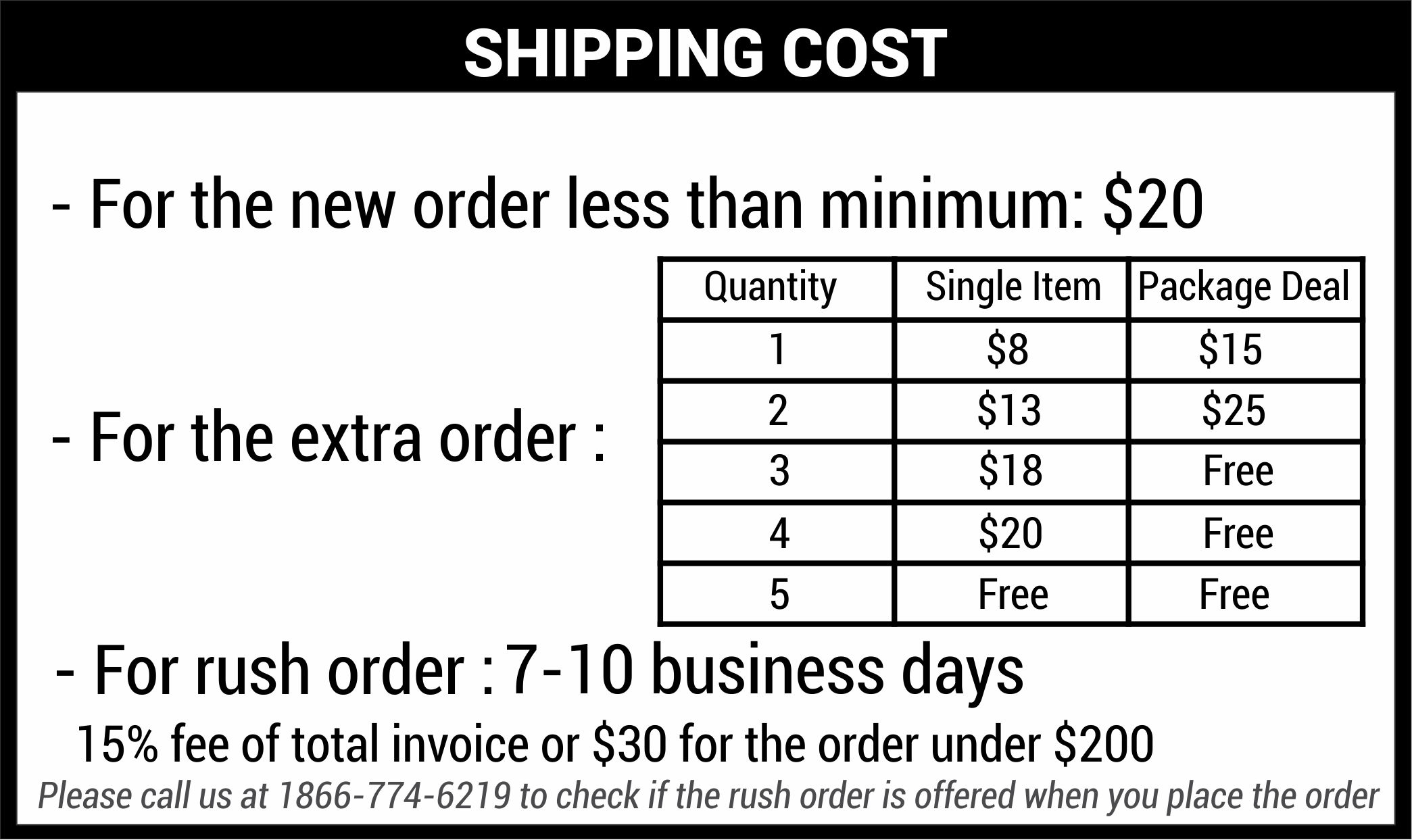 Care Instructions:
To maintain the appearance and quality of your Healy Sportswear uniforms and to maximize the life and minimize the wear and tear, we recommend that you follow the cleaning and storing instructions below:
DO's:
HAND WASH (recommended on tackle twill uniform) GENTLE CYCLE (recommended on dye sublimated uniforms AND RINSE ALL GARMENTS IN COLD WATER

REMOVE PROMPTLY AFTER WASH CYCLE TO AVOID COLOR MIGRATION

WASH INSIDE OUT

HANG GARMENTS (especially those with spandex) TO DRY

IF YOU CAN NOT HANG DRY, MACHINE DRY ON THE LOWEST SETTING

TURN JERSEYS INSIDE OUT BEFORE DRYING
DON'Ts:
DO NOT WASH IN HOT WATER

DO NOT USE CHLORINE BLEACH

DO NOT USE FABRIC SOFTENER

DO NOT WASH WHITES AND COLORS TOGETHER

DO NOT MACHINE DRY ON HIGH HEAT

DO NOT LEAVE WET OR DAMP GARMENTS IN YOUR TRAVEL BAG, IN A PILE WITH OTHER CLOTHING, OR IN A WASHING MACHINE

DO NOT DRY CLEAN
Please Note:  Healy Sportswear will not be accountable and will not replace, refund, or exchange uniforms that are damaged due to improper care and or maintenance.
Order Cancellations:
Healy Sportswear will not accept cancellations once the order detail has been confirmed by the customer and our factory has started production of your order.  Any cancellation after this time will be subject to 50% of the total order. We do reserve the right to refuse the service or order(s) you place with us. We may, at our sole discretion, limit or cancel quantities purchased per person or per order.
Returns/Exchanges:
For Plain uniforms:
We offer returns or exchanges for plain uniforms only. Please contact us within 7 business days of merchandise receipt to report the problems and or complaints and we will research your claim and resolve the problem and we will either replace or exchange the item(s) in question or issue a refund if we deemed it to be an error on our part.  The refund will be issued to the customer after we receive confirmation that the item(s) has been delivered back to Healy Sportswear. We can't offer a return due to the wrong sizes. Please make sure that you review our size chart before placing an order.
For Custom uniforms:
We do NOT accept the return or exchange for custom uniforms (which have your team name or logos, designs, or your choosing colors) We encourage our customers to order a customized sample of their designed uniform to inspect the overall look and that it is to their expectation. Once the customer has approved the Order Detail and has opted not to order a customized sample, we are not liable for any dissatisfaction that the customer might experience or portray
Please be aware: Healy does NOT offer refunds. ONLY exchange or redo or we can offer a credit note on your account to use for your future orders
All Healy Sportswear uniform returns or issues must be reported to our office within 7 business days of merchandise receipt. We will not accept any returns made after 30 days of the invoice date. All merchandise claims and or returns must be submitted via email stating in detail the reason for the return and specifying the issues, and include photos if needed to support your claim.  Our quality assurance department will review your claim and research your issues and if we deemed it to be an error on our part, we will gladly replace the merchandise or provide a refund accordingly. However, if it is not an error on our part and we can provide the proper documentation to support our claim, Healy Sportswear has the right to deny the customer's claim, complaints, and or issues
Warranty:
Warranty on uniforms is 90 days from the date customer receives their order.  If the uniforms have any problems with the stitching, material defects, etc., the customer needs to report it to Healy with pictures and quantity and we will process the redo if this is a defective uniform.   Either way, no refund will be applied. We will redo the uniforms or we can apply a credit to your account for future orders.  Anything after 90 days, Healy will NOT be responsible for any issues customers may have with their orders.
Termination/Agreement:
The commitment and responsibilities of the parties in which services are either served or rendered prior to the termination date shall survive the termination of this agreement for all-purpose. These Terms and Conditions are effective unless and until terminated by either you or us. You may terminate these Terms and Conditions by notifying us that you no longer wish to use our Services.  If we deemed that you fail, or we suspect that you have failed, to comply with any term of these Terms and Conditions, we also may terminate this agreement at any time without notice and you will be held accountable for all amounts due up to and including the date of termination.

These Terms and Conditions and policies or procedures posted by us on this site or in relation to the Service, make up the entire agreement and understanding between you and us and direct your use of the Service, taking the place of any prior agreements and communications, whether oral or written, between you or us. Any uncertainty or vagueness in the interpretation of these Terms and Conditions shall not be regarded against the drafting party.
Contacts:
Healy Sportswear
11415 Sunrise Gold Circle Suite #7
Rancho Cordova CA 95742
Phone: 1-866-774-6219
Fax: 408-350-1899
Monday – Friday: 8:00 A.M. to 5:00 P.M ( Pacific Standard Time )
Department Email Addresses :
Sales & Customer Service: Info@Healysportswear.com
Design Department: Design@Healysportswear.com
Marketing & Distributors: Danny@Healysportswear.com
General Disclaimers:
The information provided on HealySportswear.com may have some misprint or minor clerical errors in content.  We reserve the right to modify and correct any errors and inaccuracies and alter HealySportswear.com accordingly. We do not guarantee 100% or affirm that your use of our service will be timely, secure, or error-free.